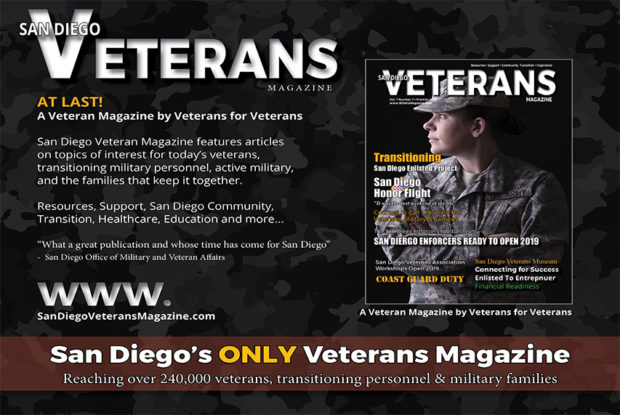 Advertising – Media Kit – 2019 Editorial Calendar
The 2019 Media Kit is now available!
To get a jump start on your marketing and or editorial position(s) contact us ASAP!
For more information, call (858) 275-4281 or email us at publisher@sdvetsmagazine.com
www.SanDiegoVeteransMagazine.com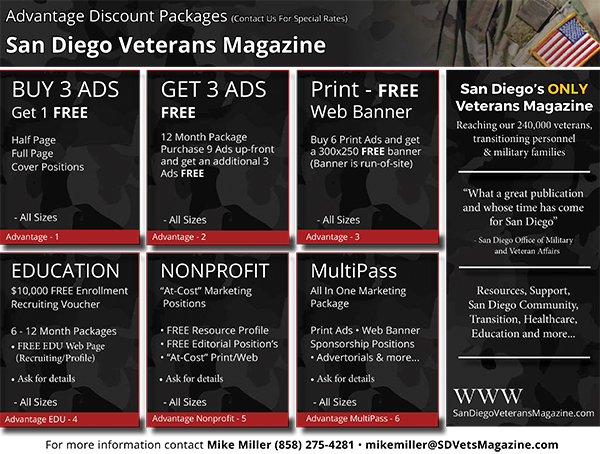 INSIDE THE ISSUES
* Editorial Content each month Includes the following:
• Monthly Featured Editorial Support, resources, inspiration and human interest articles from contributing veteran organizations throughout the country.
• Veterans In Transition Educational Opportunities, Recruiting Civilian Jobs, Articles, Jobs for Vets, Careers in Law Enforcement & Veteran Entrepreneurship
• HEALTHCARE: Fighting PTSD, Healthcare & more
• Monthly Calendar Information Military & National Holidays, Including Events ( Airshow, Military/Veteran Film Festivals, Feet Week, City Job Fairs, EDU Seminars,Workshops etc…)
• Homeland Columns, Transition, Financial, Legal, Health, Veteran Life & more…
• Community Endorsements Supporting businesses, organizations, educational institutions, community services and promotions for veterans, military personnel & military families.
2019 Editorial Calendar & Themes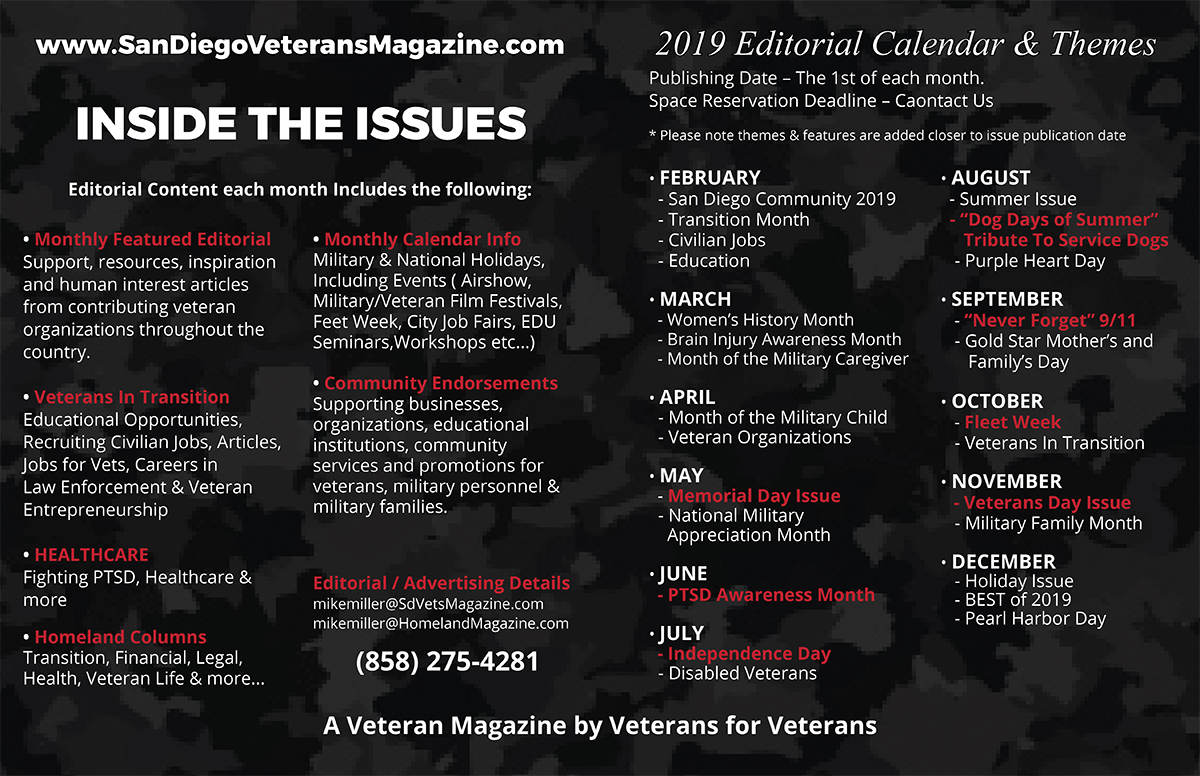 Publishing Date – Contact Us
Space Reservation Deadline – Contact Us
(Drop deadlines vary with confirmation and month (Call for monthly details)
* Please note themes & features are added closer to issue publication date
• February
– San Diego Community 2019
– Transition Month – Civilian Jobs
– Education
• MARCH
– Women's History Month
– Brain Injury Awareness Month – Month of the Military Caregiver
• APRIL
– Month of the Military Child – Veteran Organizations
• MAY
– Memorial Day Issue – National Military Appreciation Month
• JUNE
– PTSD Awareness Month
• JULY
– Independence Day – Disabled Veterans
• AUGUST
– Summer Issue
– "Dog Days of Summer" Tribute To Service Dogs
– Purple Heart Day
• SEPTEMBER
– "Never Forget" 9/11
– Gold Star Mother's and Family Day
• OCTOBER
– Fleet Week
– Veterans In Transition
• NOVEMBER
– Veterans Day Issue
– Military Family Month
• DECEMBER
– Holiday Issue
– BEST of 2019
– Pearl Harbor Day
Editorial / Advertising Details
publisher@sdvetsmagazine.com
(858) 275-4281
A Veteran Magazine by Veterans for Veterans