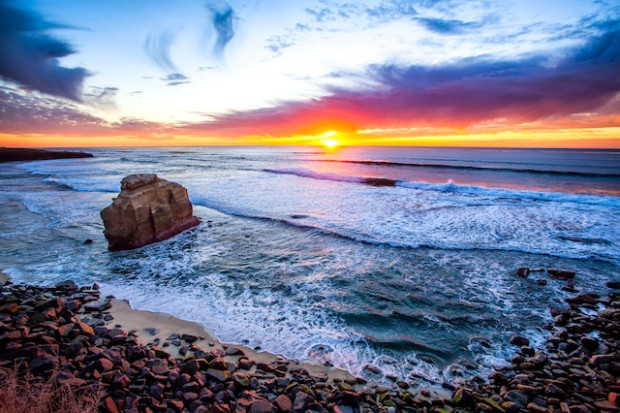 San Diego's Natural Wonder: The Sea
By Linda Kreter
"The Sea, once it casts its spell, holds one in its net of wonder forever."
–Jacques Cousteau
The ocean is near to us, the fortunate residents and visitors of San Diego, and few take it for granted. Since the beginning of time, water has been a constant, critical element to survival – but also to dream, be still, and restore. Even the salinity of the ocean is healing and calming, and many healing and spiritual rites center upon water. As we enter autumn, the air invigo- rates, and yet we still seek the sea, each season of the year. Those who visit our beaches or drive up our coastal highways understand one of the many reasons we live here.
Most people are drawn to oceans, rivers, and beaches, and science supports this premise. Creativity may flow easier when attuned to the sound of the waves, and the constancy of the rhythm. Mindfulness is becoming a part of many medical disciplines and the sea (or even small rock garden fountains) is used to provide a focus or center to quiet and soothe. Brains gently engaged but relaxed bring health benefits including relief of mild anxiety, lowering stress, and even better sleep quality. Is it any wonder that one of the most common forms of "white noise" is that of the ocean?
The sea may also make us kinder. With quiet reflection upon the waves and water, the annoyances of our life seem to diminish. We become more compassionate and calm listening to the sea, where the sounds are serene or powerful depend- ing on the wind. Most of all, we become aware of how small we are compared to the ocean, and for many, a spiritual ele- ment is strengthened.
In today's busy (and noisy) world, making the time to breathe in the ocean breezes, splash your feet at the water's edge, or watch a sunset can be a small respite that is there if you seek it. Carve out a pocket of time to enjoy our beautiful San Diego beaches.