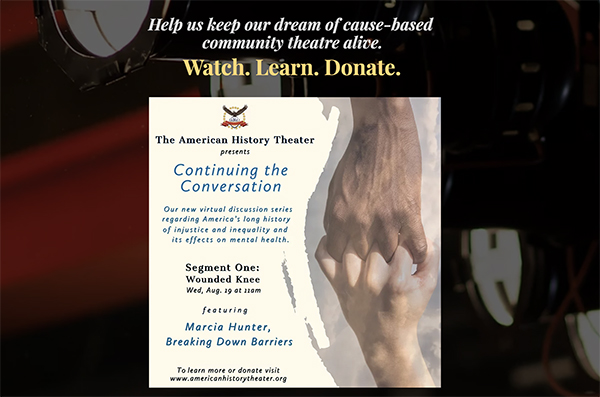 The American History Theater is proud to release its first segment in its online video series about the history of racism in America, Continuing the Conversation. This first segment focuses on the history of the Massacre at Wounded Knee. Each video segment will feature an interview with a member of Breaking Down Barriers, an outreach program that works with underserved communities to talk about mental wellness. AHT Founder and President, Hal Berry, provides an educational introduction, followed by an interview by AHT Artistic Director, Kandace Krystal with BDB Marcia Hunter, BDB Outreach Coordinator for the Native American Community.
You can view segments each release date on our social sites or on our Continuing the Conversation website page > https://www.americanhistorytheater.org/current-production
To get segments delivered to your inbox, sign up for our email list located at the bottom of the page.
This is a fundraising series and we appreciate any amount given.
Learn more and view Massacre at Wounded Knee
(select yellow view button next to segment):
https://www.americanhistorytheater.org/current-production