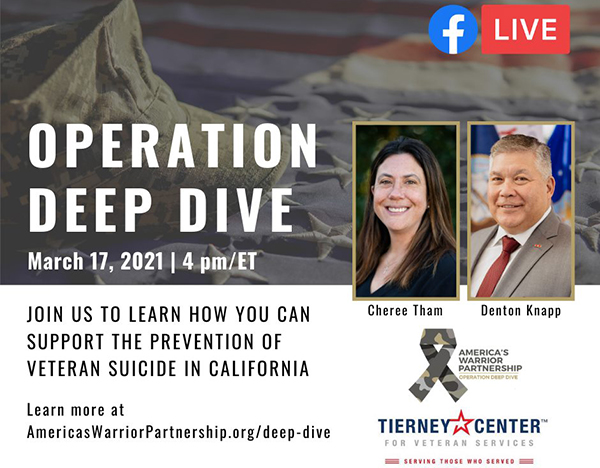 Empowering California to Prevent Military Veteran Suicide
An average of 17 military veterans die by suicide every day, and California residents have the chance to help end this crisis by supporting the next phase of a suicide prevention study called Operation Deep Dive (OpDD).
Researchers seek to interview California residents who have lost a veteran loved one to suicide
in the past two years.Interviews will help determine whether a veteran was able to access critical support services before their death. The goal is to develop proactive guidelines for community organizations to engage veterans before they reach a life-threatening crisis.
Study directors will discuss available suicide prevention resources during a Facebook Live broadcast on Wednesday , 3/17, at 1 p.m. PST. The Goodwill of Orange County's Tierney Center for Veterans Services oversees the study in California, while America's Warrior Partnership and the University of Alabama direct the study nationally.
Learn more about Operation Deep Dive at
www.americaswarriorpartnership.org/deep-dive