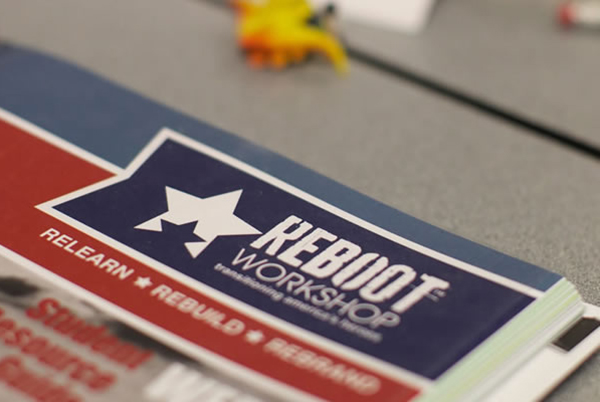 Enrollment Now Open for Live Virtual REBOOT Workshops
The Live Virtual REBOOT Workshop™ is based around how we think and how our thoughts impact every facet of our lives. Our content shows you how we let habits, attitudes and beliefs strongly influence our inner potential. We also illustrate how our beliefs and expectations about ourselves, our families, and our futures are directly related to our current realities. The Live Virtual REBOOT Workshop™ is designed to build increased awareness of how your mind works, how to control the way you think, and how to achieve success in any part of your life. The program also shows you how important it is for those that have suffered a traumatic experience how to lock on to the power of the mind to better focus on a more productive and contributive future.
The Live Virtual REBOOT Workshop™ is divided into three parts:
Part I – Military-to-Civilian Personal Transition. Developed by The Pacific Institute®, part one addresses the transition domains of Personal Effectiveness and Wellbeing.
Part II – Military-to-Civilian Lifestyle Transition. Developed by Operation Legacy, part two addresses the transition domains of Living Situation and Community-Life Functioning.
Part III – Military-to-Civilian Career Transition. Part three addresses the transition domains of Employment, Career, and Education.
The free four-week (48hr), 3 days/week, course of progressive training builds upon the participants' military training, skills, and experience and comprehensively addresses the personal, social, & professional aspects of military-to-civilian life transition.
Learning Objectives
Each day involves interactive sessions with short discussions. Participants are asked to look introspectively at their lives and provide answers to reflective questions outlined in the resource material with facilitated group discussions. Certificate issued upon completion of full-Live Virtual course.
Supplemental Support:
Job skills training in high-demand industries and placement assistance is available to graduates through our partner network.
Connection to community resources will be made available through various channels and orchestrated through NVTSI.
Enrollment Requirements
Enrollment in the Live Virtual REBOOT Workshop™ is by application only for transitioning service members, veterans, and spouses.
Schedule
Virtual Classes begin in September and run monthly – Classes are held on Monday, Wednesday, and Friday's from 0900 to 1400. *Subject to change due to holiday
Please click here to enroll.
Contact Information or Questions
Kalem Riley kalem@nvtsi.org | 619-822-2701

About REBOOT Workshops
REBOOT Workshops is a free three-week intensive military-to-civilian transition workshop that provides extensive training focused on three areas: Personal Transition, Lifestyle Transition & Career Transition. REBOOT addresses the personal and social aspects of transitioning to civilian life by using research-based, outcome-driven methods drawn from best practices in career planning and cognitive-behavioral techniques. Our workshop training is supplemented with an extended follow-up that enhances career opportunities, promotes social networking, and leverages peer support. REBOOT is available to military active duty, veterans of all wars, and spouses
About National Veterans Transition Services, Inc.
National Veterans Transition Services Inc. (NVTSI) is a 501(c)(3) organization that serves veterans making the significant transition from military to civilian life. We advocate, inform, and provide comprehensive transition services for veterans, with a focus on recently separated service members (RSS), veterans, and service members within 12 months of anticipated separation. For more information visit: www.nvtsi.org.