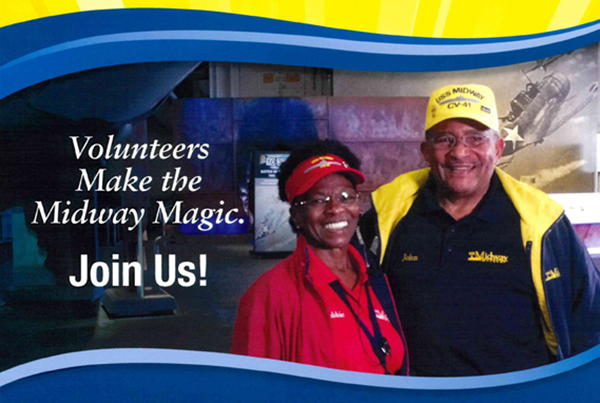 Live the Legacy as a USS Midway Museum Volunteer – Volunteers Make the Midway Magic
The USS Midway Museum is looking for enthusiastic volunteers to share the historic legacy of the country's finest aircraft carrier museum with guests from all over the world. From welcoming visitors to helping them safely exploring this massive naval ship, volunteers are the foundation of the guest experience aboard the Midway.
"My greatest reward continues to be my interactions with our guests," said one of the museum's volunteers. "What a privilege it is to educate and entertain the public, presenting the Midway and her vast collection of technology and the sailor and airman's life at sea. Magic indeed!"
Applicants must be at least 18 years old and able to volunteer for at least six months. Military experience is not required. Comprehensive training and mentoring will be provided in guest relations, shipboard communications, CPR/first aid and other areas necessary to ensure a safe and enjoyable visit to the Midway.
If you're a people person, this is a great opportunity to share in the passion of having fun, while building a greater sense of community through an enriching and engaging volunteer experience. More information about becoming a volunteer along with the volunteer application can be found at https://www.midway.org/give-join/volunteers/volunteer-opportunities.
"It is an honor to serve as a volunteer with this group of individuals," said another Midway volunteer. "Working with the Midway crew has been a life-changing experience."
If you have questions, contact the USS Midway Museum volunteer coordinator at (619) 398-8289 or volunteering@midway.org.