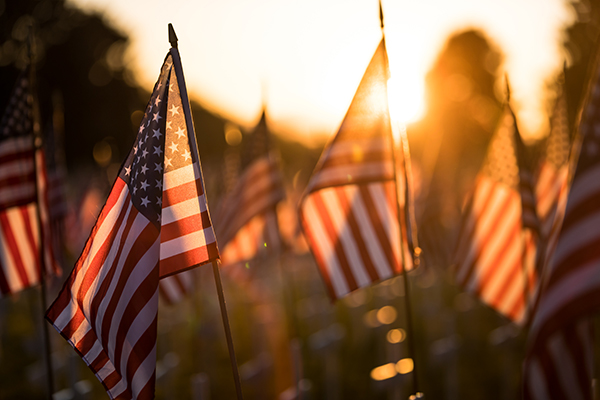 On this Memorial Day weekend, we remember over 1.2 million military men and women who have died serving our country. From the Civil War to today, our Soldiers, Sailors, Marines, Airmen, and Coast Guardsmen have made the ultimate sacrifice defending our freedoms.
Please take time to attend a Memorial Day ceremony or visit a National Cemetery near you to remember them. On Memorial Day at 3 p.m. (your local time), please observe a National Moment of Silence.
———————————————————————————————————————————————————————————————————————————————————-
Ceremonies and events this Memorial Day weekend
———————————————————————————————————————————————————————————————————————————————————-
Alpine Veterans Wall of Honor
Saturday, May 27
9:30 a.m.
You are invited to the Alpine Community Center (1830 Alpine Blvd in Alpine) where more than 30 new heroes will be inducted on the Alpine Veterans Wall of Honor.
In addition to the indoor ceremony attended by the local community, American Legion members, and Patriot Guard Riders, there will be a special flag presentation. Honor Flight San Diego alumni will share their recent trip experience and Honor Flight San Diego volunteers will be on hand to answer questions about the trip, and applying as a veteran or guardian for a future flight.
The ceremony is free to attend, open to the public, and plenty of free parking.
———————————————————————————————————————————————————————————————————————————————————-
Miramar National Cemetery Support Foundation
Memorial Day Ceremony
Sunday, May 28
1 p.m.
Please join us at Miramar National Cemetery (5795 Nobel Drive in San Diego) for a special Memorial Day Ceremony.
The ceremony will commemorate 50 Years of Women in Naval Aviation. The keynote speaker is U.S. Navy combat helicopter pilot CAPT Tamara Graham who has served over 30 years. Additionally, the 2022 San Diego Veteran of the Year, Joshua Prado, U.S. Navy Veteran, will share what Memorial Day means to him and our veteran community.
While on cemetery grounds, please visit the Memorial Walkway, Veteran's Tribute Tower and Carillon, and the POW Liberation Memorial.
The ceremony is free to attend, open to the public, and plenty of free parking. There will be shuttles from your car to the open air amphitheater and plenty of seating.
For more information, Click Here!
———————————————————————————————————————————————————————————————————————————————————-
Mt. Soledad Memorial Day Ceremony
Monday, May 29
11 a.m.
Please attend the Memorial Day ceremony at Mt. Soledad National Veterans Memorial (6905 La Jolla Scenic Drive at Via Capri in La Jolla).
The Keynote Speaker is U.S. Navy Vice Adm. Kenneth Whitesell, Commander Naval Air Force/Commander, Naval Air Force, U.S. Pacific Fleet.
Special guest speaker is Pat Scannon, M.D., Ph.D., Founder of Project Recover who will honor WWII Navy Aviation Radioman 3rd Class Walter Mintus. Petty Officer Mintus was a member of the U.S. Navy Torpedo Squadron Fifty One (VT-51) based on the USS San Jacinto (CVL-30). Former President George H. W. Bush was a pilot with VT-51 at that time. VT-51 was a squadron of TBM/F Avenger torpedo bombers, each with three crew.
On July 27, 1944, Mintus, the pilot, and the gunner of the TBM Avenger participated in a mission to bomb Japanese targets in Malakal Harbor. The TBM was in the lead position and was last spotted three to five miles ahead of the other aircraft. Eyewitnesses at the time said they saw an object, believed to be an aircraft, burning in Malakal Harbor. Mintus and his crew were declared MIA that day, and presumed dead on February 4, 1946.
Project Recover located Mintus' TBM Avenger in the waters surrounding the Republic of Palau in 2016. The team used the most advanced oceanographic technology with advanced archival research methods to locate the submerged crash site. You can learn more about Project Recover by going to: www.projectrecover.org
The public is invited to attend the ceremony and free parking will be available at the Mount Soledad Presbyterian Church and the French American School.
There is no cost to attend and the event will be also simulcast at: www.memorialdaylive.com
***There will be reserved seating for Honor Flight San Diego attendees at the ceremony. We also have 5 parking passes for drivers who need to drop their mobility-challenged veteran and park close by (vice off-site). Please email: holly@honorflightsandiego.org to reserve a parking pass.
———————————————————————————————————————————————————————————————————————————————————-
Legacy Week onboard the USS Midway Museum
May 23-30
Please visit the USS Midway Museum during "Legacy Week." The week of events and activities are the heart and soul of Memorial Day commemoration in San Diego. From a Memorial Day Wreath Ceremony on Monday, May 29 at 9 a.m., to an interactive Remembrance Wall, – each element of Midway's Legacy Week commemoration is designed to honor and remember our heroes and celebrate our military heritage.
To learn more about the events onboard the USS Midway: Click Here!
———————————————————————————————————————————————————————————————————————————————————-
Airborne Legacy
Online Film Screening
Monday, May 29
6 p.m. (PST)
From our friends at Operation Call-to-Service, you can meet Vincent J. Speranza, one of the last WWII "Screaming Eagles" who served with the 101st Airborne Division in the Battle of the Bulge. It is an online event and a portion of the proceeds will be donated to Honor Flight San Diego!
Purchase a ticket for $20 to the AIRBORNE LEGACY Film Screening and it includes an exclusive pre-screening event!
The pre-screening event takes place on Monday, May 29, 2023 at 11 a.m. (PST) at the National Memorial Day Parade. Operation Call-To-Service will broadcast LIVE from Washington D.C. where the largest Memorial Day ceremony in the country will honor Airborne Legacy, WWII Battle of the Bulge, machine gunner, Vincent J. Speranza and generations of our nation's veterans. The Memorial Day Parade is hosted by the American Veterans Center and presented by Boeing.
The Airborne Legacy film screening is brought to you by Operation Call-To-Service in collaboration with the Americans Veteran Center and award winning producer and photo journalist, CJ Machado.
To get your tickets to the Monday evening online film screening at 6 p.m., Click Here! and be sure to scroll down to the "Benefit Honor Flight San Diego" line and we'll receive a portion of the proceeds! The link to join will be provided after your ticket purchase.
———————————————————————————————————————————————————————————————————————————————————-
Honor Flight San Diego
Follow us on our official social media sites
We post a few times a week, and this is where you find the latest news and updates for our organization.
Please "like" us on Facebook Official Facebook Page. We also just revitalized our Instagram account Official Instagram Page so check out our posts! There are many ways to stay connected – please tell your friends about us!