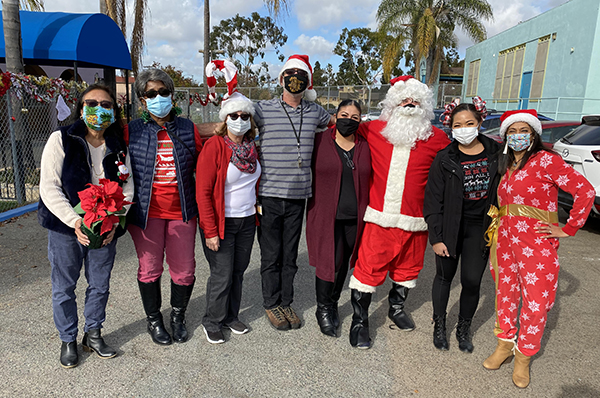 No Senior Alone: San Diego Seniors Community Foundation Awards
26 Local Nonprofits to Host Holiday Events
Largest Collective Senior Holiday Effort in San Diego, Donations Still Needed through
Giving Tuesday, Nov. 30
The San Diego Seniors Community Foundation (SDSCF) has awarded grants to 26 local nonprofit organizations to brighten the holidays for socially isolated seniors throughout the region. Now in its second year, the grant program represents the largest collective senior holiday effort in the region, partnering with an unprecedented number of nonprofits to support 4,000 older adults. The grants are funded through SDSCF's No Senior Alone Matching Holiday Challenge, an ongoing fundraising campaign that hopes to double the amount raised in 2021 to $100,000 to benefit twice as many seniors as last year.
The matching campaign is anchored by a $50,000 grant from the Sahm Family Foundation, and runs now through Giving Tuesday, Nov. 30. Donations can be made at sdscf.org/givingtuesday.
The grants, currently totaling $85,000, are tailored to help senior centers and nonprofit agencies create holiday-themed events and programming. The goal? To bring joy to socially isolated seniors through a variety of holiday activities including drive-thru parties, meal and gift deliveries, and safe, in-person gatherings.
"Social isolation among seniors was already a public health crisis before COVID-19, and it's worse than ever. Many of our oldest community members are homebound and alone during the holidays.," said Founder Bob Kelly. "This grant program brings holiday comfort, company and celebrations to San Diego's older adults throughout the county thanks to a strong network of nonprofits that support this population. We are proud to fulfill every holiday grant request received this year."
Despite the constraints of the pandemic, SDSCF rolled out a holiday grant campaign in 2020 that resulted in 13 awards totaling $41,500 to organizations serving seniors from Fallbrook to Chula Vista. The largest effort of its kind to date, last year's No Senior Alone grants assisted about 2,000 older adults through holiday drive-through parties, gift bags, poinsettias, technology to connect with loved ones, meals and more. This year's efforts will double those of 2020.
The 2021 grantees and their events are:
Bayside Community Center (Linda Vista) – A holiday meal and gift baskets for 40 seniors, with food selections that reflect their cultural diversity
Casa Familiar – Festivities at four senior apartment sites in the South Bay/San Ysidro region for 250 seniors
Chicano Federation – Drive-Thru Holiday Celebration, at which 90 seniors, as well as families and individuals, will receive groceries, gift cards, blankets and other essential items to brighten the holidays
City of San Diego Park De La Cruz Center – Holiday celebrations and Operation Joy to bring happiness and relieve isolation for 200 older adults at the Balboa Park Senior Lounge, including hot chocolate, ornament decorating, holiday cookies and baskets
Del Mar Community Connections – A holiday party with a cookie exchange and live entertainment serving 100 older adults, and handmade plant arrangements and stocking stuffers delivered to 60 homebound seniors with assistance from the Del Mar Garden Club
ElderHelp – Help fund the 22nd annual Holiday Angels outreach, with volunteer "angels" delivering holiday plants, handwritten cards and gift cards to 400 seniors
Encinitas Senior Center – A holiday celebration for 40 participants in the center's daily congregate meals program, including handwritten holiday cards from local Girl Scouts
Escondido Senior Center – A catered holiday meal for socially isolated seniors and a decorations party will benefit a total of 300 seniors
Fallbrook Senior Center – Holiday gift baskets for 60 homebound older adults and a Hispanic Holiday Outreach event, with a Spanish-language Christmas film at the local old-fashioned movie theater
Feeding San Diego – Holiday Hugs care package program for 400 isolated seniors, with hot cocoa, candy canes and affirmation cards
Foundation for Senior Care – Adopt a Senior Holiday Gift Box program, with custom wreaths and holiday cards delivered to 85 isolated individuals
Foundation for Senior Wellbeing – Senior Trees of Joy program, delivering beautifully decorated tabletop artificial Christmas trees to 50 deserving clients in North County
Fourth District Senior Center (Southeastern San Diego) – A warm and festive holiday gala to brighten the season for 150 seniors
Imperial Beach Senior Center – Holiday gift boxes to 100 isolated seniors, including healthy snacks, handwritten cards, a mini-tree and more
Interfaith Community Services – Adopt a Family Holiday program for 50 isolated seniors to receive gift bags and gift cards
La Jolla Community Center – The Holiday Cheer and Meal Delivery program for 100 isolated seniors, providing 50 Thanksgiving and 50 holiday meals, as well as an in-person holiday celebration for 125 seniors
Lawrence Family Jewish Community Center – A Hanukkah Intergenerational Celebration and gift bags for 130 older adults. JCC's preschoolers will sing holiday songs, and 100 seniors will receive care bags with traditional Hanukkah items
Neighborhood House Senior Center – Holiday cheer to 60 isolated older adults, who will receive an item from their holiday wish list
Oceanside Country Club Senior Center – An Intergenerational Holiday Party that will serve 100 seniors and feature performances by local school choirs, refreshments and a craft project
Peninsula Shepherd Center (Point Loma) – Holiday porch visits and gift bag delivery by volunteers for 80 isolated seniors in the Point Loma and Ocean Beach area
Ramona Senior Center – A holiday celebration for center patrons and delivery of gift bags to participants in the home-bound seniors meal service program, reaching about 150 seniors
Rancho Bernardo Senior Center – A New Year's celebration for older adults featuring holiday fare, live entertainment and a gift bag with a holiday plant, as well as at-home deliveries, benefitting 100 older adults
San Marcos Senior Center – Gift baskets for 100 seniors attending the center's Holiday Gala luncheon
Serving Seniors – Holiday party gift bags for 350 seniors at a festive holiday event, with hot cocoa, caroling and crafts
Southern Caregivers Resource Center – A Holiday Drive-Thru Celebration that will benefit 100-200 senior caregivers and care receivers, including no-sew blankets, handmade cards, wintery teas and more
Vista Senior Center – A fun-filled Holiday Spirit week and a Winter Solstice party for 125 older adults, including bingo, crazy hat day, stuffed sock prize giveaways and a White Elephant gift exchange
SDSCF is currently seeking companies to match donations to assist these nonprofits and more on Giving Tuesday, Nov. 30 for a one-hour time period – creating a triple match Senior Power Hour. To learn more or sign up, contact Kristoffer Kelly at kris@sdscf.org.
About San Diego Seniors Community Foundation
SDSCF is a first-of-its-kind, nonprofit 501(c)(3) established in 2017, with the singular focus of improving the vitality and quality of life for all seniors in San Diego County. SDSCF is founded on the vision of Bob Kelly, former president and CEO of The San Diego Foundation, and is working toward a world where seniors are physically active, socially connected and receive the support they need to live healthy, dynamic lives.
SDSCF's mission is to find solutions to the various challenges affecting area seniors through philanthropy, advocacy and by working with elected officials, regional leaders and senior experts. In particular, the nonprofit has formed and leads the San Diego Senior Center Coalition, collaborating with the existing network of caring senior service providers to strengthen the region's aging-support network. A major focus area of SDSCF is the expansion and modernization of local senior centers. For more information, visit www.sdscf.org