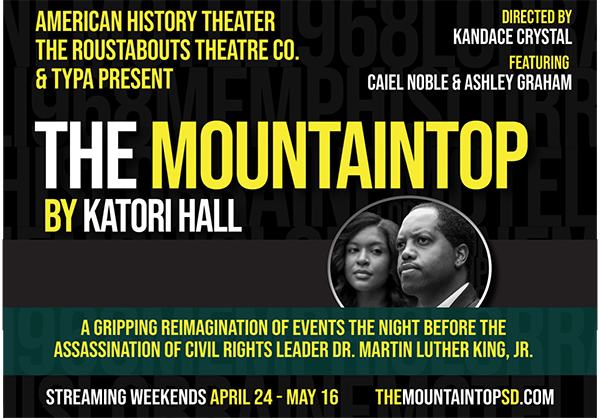 THE AMERICAN HISTORY THEATER, THE ROUSTABOUTS THEATRE CO., and TEENAGE YOUTH PERFORMING ARTS THEATRE COMPANY PRESENT 'THE MOUNTAINTOP'
by KATORI HALL
FILMED FOR STREAMING ONLINE
AVAILABLE ON-DEMAND FOR 8 DATES from April 24 – May 16 DIRECTED BY KANDACE CRYSTAL
Three San Diego Theatre Alliance members, The American History Theater (AHT, Teenage Youth Performing Arts Theatre Company (TYPA) and The Roustabouts Theatre Co., have partnered to present The Mountaintop, written by Katori Hall, streaming online April 24 – May 24 for 8 specific performance dates: April 24-25, May 1-2, May 8-9, and May 15-16. Proceeds from tickets and donations will benefit all three companies.
This virtual filmed presentation, directed by Kandace Crystal, AHT Artistic Director, featuring Caiel Noble and Ashley Graham, is a powerful reimagination of events the night before the assassination of the civil rights leader Dr. Martin Luther King, Jr. On April 3, 1968, after delivering one of his most memorable speeches, an exhausted Dr. King retires to his room at the Lorraine Motel while a storm rages outside. When a mysterious stranger arrives with some surprising news, King is forced to confront his destiny and what his legacy will be to his people.
Each company is excited to be a part of this powerful show, each bringing their respective strengths to the partnership. AHT holds the rights to the production, which was chosen by Crystal and Hal Berry, AHT founder and president.
"I was teaching high school on April 4th, 1968, when word came over the news in the late afternoon that Dr. King had been assassinated," said Berry. "We have come so far, but the same forces that killed the hope of [Dr. King's] generation are still working against us today. Once it was suggested, I knew this play was one that was appropriate for the current state of our nation."
The Roustabouts were seeking a show for late Spring when The Mountaintop was presented to them as a possibility for a partnered show.
"The Roustabouts is dedicated to great writing, and The Mountaintop is that kind of a play," said Phil Johnson, Artistic Director and founding partner. "It is inspiring, emotional, and aspirational, and so important in this time of upheaval and social change."
TYPA, a teenage and youth performing arts company, co-founded by Kimberly King, who is managing director and dramaturge of the company, hopes to bring unique life to Katori Hall's work.
"The Mountaintop is a beautiful thank you letter to Dr. King," said King. "She reminds us that our icons have life and depth beyond the sacrifice they made for us, they have feelings and desires that are denied by our deification of them."
The idea to partner and mentor smaller companies within Theatre Alliance originated with Johnson. With that in mind, Crystal approached him with the rights to The Mountaintop, as a way to bolster the impact of the show. The Roustabouts agreed to come on board immediately in the capacity of partner and mentor for the smaller AHT. TYPA, also a smaller and younger organization, was added to ensure further authenticity and accountability of the production.
"We discuss the importance of mentorship often within the Theatre Alliance," said Johnson. "This was our collaborative opportunity to walk the walk and lead by this group example."
For smaller companies like AHT and TYPA, securing funding and audiences can be a challenge in their early years and, especially now, during the difficulties of COVID. Partnerships with larger companies, like The Roustabouts, or fellow small companies helps each in allocation of resources, staff capability, and show quality.
"The Roustabouts is an experienced company that brings a strong infrastructure of staff and talent to the project which will ensure a must-see photograph into the courageous and sometimes flawed life of a young man who did so much for racial justice and national atonement," said Berry.
All companies have brought their professional strengths to this important project, but also a set of values that will ensure the partnership flourishes.
"I couldn't have imagined a more humble, like-minded group of professional theatre lovers to collaborate with," said King. "It's like a potluck, and TYPA has brought the homemade potato salad!"
Purchase your tickets for a one-time, on-demand viewing of The Mountaintop at www.themountaintopsd.com.
To learn more about San Diego Theatre Alliance visit https://sdpal.org/theatre-alliance/
In addition to collaborating on The Mountaintop, the companies are co-presenting an event, "Orations and Conversations: Words of MLK," on March 24 at 7:00 PM. Ms. King will be hosting the Zoom performance featuring actors William BJ Robinson, Alyce Smith Cooper, Rhys Greene, Imahni King, Ava Harris, and Ebony Erickson. More information and link at https://www.theroustabouts.org/wordsofmlk
FACT SHEET
WHAT: The American History Theater, The Roustabouts Theatre Co., and Teenage Youth Performing Arts Theatre Company present The Mountaintop by Katori Hall
Directed by Kandace Crystal
CAST: Caiel Noble and Ashley Graham
WHERE: Online at www.themountaintopsd.com
SCHEDULE: Available on-demand April 24-25, May 1-2, May 8-9, May 15-16
PRICES: $25 – $100
DISCOUNTS: Please contact the box office at info@theroustabouts.org
BOX OFFICE: (619) 568-5800 or www.themountaintopsd.com
Bios and headshots for cast, director, creatives, and production staff are available at
https://www.theroustabouts.org/press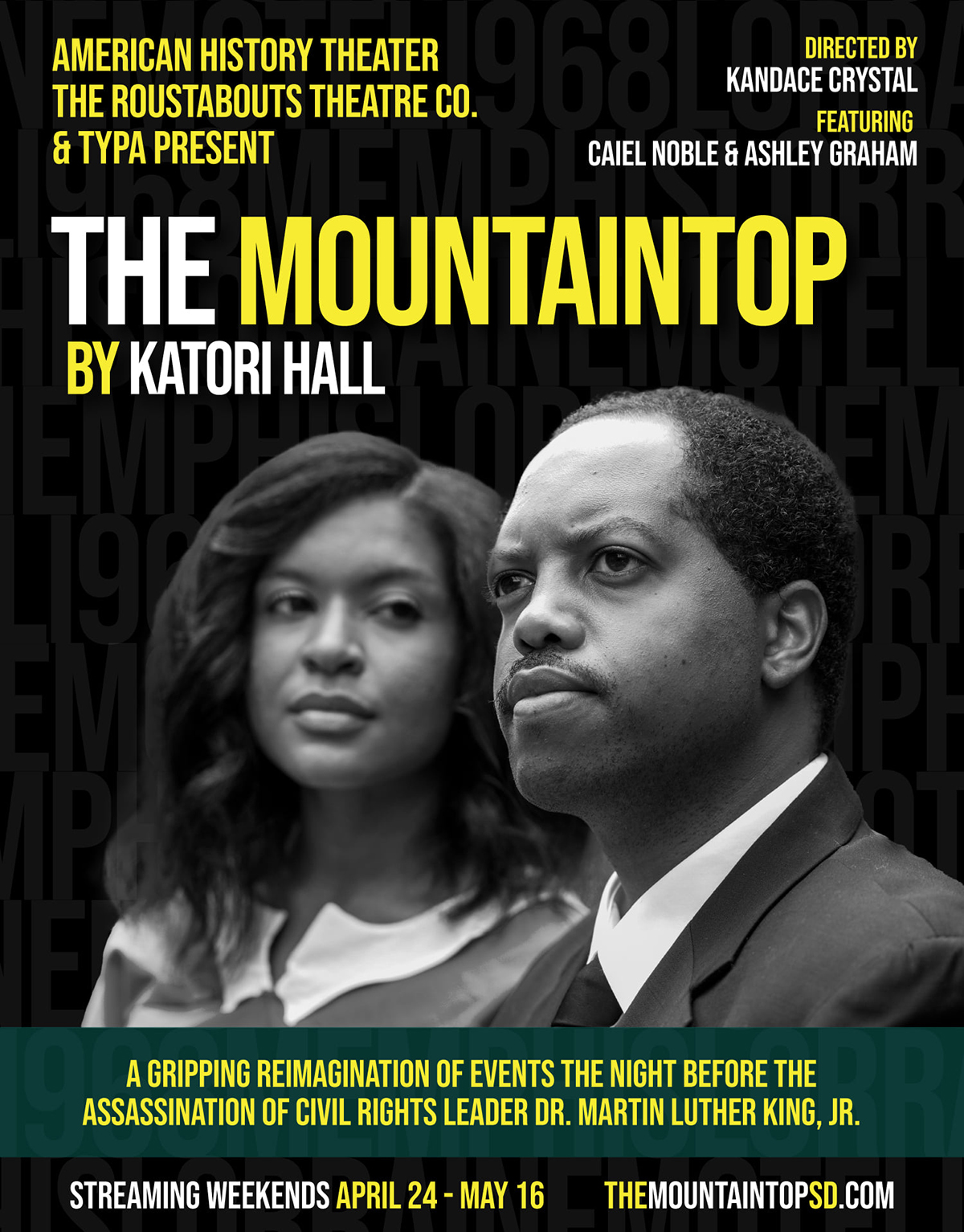 BACKGROUND:
THE AMERICAN HISTORY THEATER
AHT is a San Diego-based nonprofit that seeks to educate, inspire and raise social awareness through historical theatre while advocating for our community's veterans through creative healing workshops and special events.
THE ROUSTABOUTS THEATRE CO.
A non-profit San Diego theatre company dedicated to entertaining, educating, and inspiring audiences in southern California by producing fresh visions of classics, well-known contemporary plays and new works. The founders bring passion, excitement and dedication to making great theatre and sharing it with the young and old residents of San Diego and beyond.
Teenage Youth Performing Arts (TYPA) Theatre Company
TYPA is more than a community theatre for teens. We are a movement. We are a family of artists that all believe in the rigorous study and production of theatrics for free. We believe that high-quality production is for everyone to be a part of, not just those who pay or get paid to perform. Theatre, as a whole, is a community and in a community there are many kinds of people. We are simply expanding upon the community and creating another performance outlet for teens to move towards and grow within.