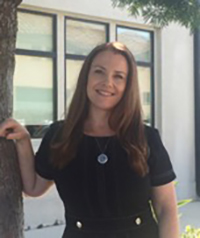 Meet RanDee McLain
RanDee is a proud US Navy veteran who spent time in Iraq, Kuwait and Spain. After being medically separated in 2009, RanDee went on to earn a B.S in Criminal Justice from SDSU and her Master's degree in Social Work with a concentration in Military and Veteran's programs from USC. Her transition from active duty was difficult and RanDee decided to make a career of serving her fellow veterans and their families. Her passions include serving post 9/11 veterans, specifically those that are justice-involved and/or those who have difficulty transitioning.
Her day/pay job is a Program Director for Mental Health Systems. As a Director, she has had the opportunity to lead an Outpatient Mental Health Clinic for the Severely Mentally Ill; oversee a large Substance Use Disorder and Assertive Community Treatment (ACTION) program as well as start a new program (Storage Connect II) which helps homeless individuals store their belongings while getting connected to resources. RanDee is most proud of her work as the Director of Courage to Call.
Courage to Call is a San Diego County funded program that serves the military- affiliated community. The Courage to Call program began in 2009 as an information and referral line for veterans and their families. Under RanDee's leadership the program expanded to provide comprehensive clinical case management and outreach. For more information about Courage to Call, go to: www.courage2call.org
In additional to the clinical piece, RanDee started and continued the event called Operation Dress Code. Operation Dress Code is an annual event that serves Active Duty and Veteran women. The female participants are treated to a day of resources including business attire, shoes, jewelry, mock job interviews, facials ….and so much more. Last year's event served over 500 female veterans and active duty.
RanDee has served as the Chair for the annual San Diego Military Women's Luncheon for the past four years. This event brings together female veterans from WWII to current Active Duty for a day of fellowship and camaraderie.
RanDee continues to be active in the veteran community and the greater San Diego community. She serves on the Board of Directors for the San Diego Veterans Coalition and the San Diego Enforcers.
The San Diego Enforcers are a local non-profit football team that is comprised of state, local and federal law enforcement. RanDee has been with the team for 10 years. She currently is the Director of Communications for the team. This role combines several of RanDee's passions…football and charity! I mean who wouldn't want to watch hot cops play football for charity. For more information about the Enforcers, go to: www.sandiegoenforcers.com
RanDee is currently assisting with the San Diego Federal Veterans Treatment Court as the mentor coordinator and trainer. In her spare time, RanDee is on faculty with Justice for Vets and the National Association of Drug Court Professionals (NADCP) where she teaches Veteran's Treatment Courts, DUI Courts and Drug Courts across the country. RanDee has served as faculty for Justice for Vets for the last seven years.
For her work in the veteran space, RanDee was named the San Diego County Veteran of the Year in 2014.
RanDee writes a monthly column for Homeland Magazine and San Diego Veterans Magazine focused on mental health. (A Different Lens)