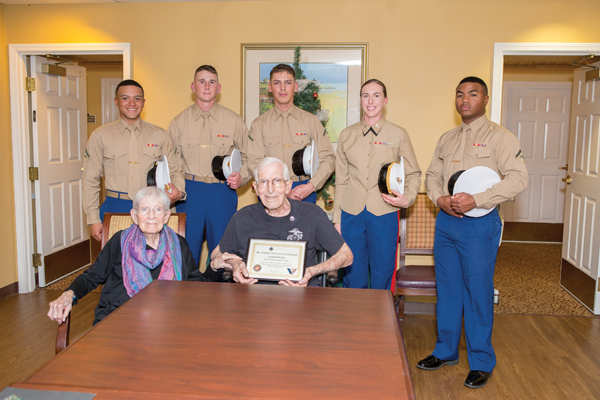 Silver Star recipient receives Honor Salute by Camp Pendleton Marines
Carlsbad resident Leonard Pecchia joined the Marine Corps in 1944. Shortly after boot camp, he was shipped out to the South Pacific as a member of Company H, 3rd Battalion, 26th Marines, 5th Marine Division. By February of 1945, Pecchia was held in high regard by senior Marines in his platoon for his leadership and was appointed as a fire team leader at the start of the historic Battle of Iwo Jima.
On March 2, 1945, during the Battle of Iwo Jima, Private First Class (PFC) Leonard Pecchia braved harrowing enemy fire to aid a fellow Marine who had been wounded and was stranded on the enemy-side of a ridge. Ignoring his own wounds, PFC Pecchia retrieved and evacuated the wounded Marine. PFC Pecchia was awarded the Silver Star for his bravery and the actions he took out of "grave concern for the life of another," his citation states. He also received the Purple Heart.
Mr. Pecchia's three sons said their father spoke very little about his military service when they were growing up. When children at the local pool would ask Mr. Pecchia about the scars on his chest, he responded, "A lion got me."
When five CampPendleton Marines recently paid a visit to Leonard and Joan, his wife of 70 years, he was still quiet about his time in the Marine Corps, even downplaying his efforts. Mr. Pecchia, did however, impart some advice to the young Marines. 1st Lt Kimberly Colby said, "Mr. Pecchia has carried the qualities embodied as a Marine throughout his entire life. Self-discipline, respect, integrity and courage exemplify this Silver Star recipient. We could tell by the actions and words of his family how much Mr. Pecchia is loved and respected."
1st Lt Kimberly Colby, USMC and four other Marines from Camp Pendleton read Mr. Pecchia's citation from 73 years ago and conducted an Honor Salute in recognition of his military service. 1st Lt Kimberly Colby volunteers with The Elizabeth Hospice to recognize and thank veterans for their service in the Armed Forces.
With the help of StoryCorps, Mr. Pecchia's sons have captured their father's stories to preserve and share his memories and life experiences. One story that was shared demonstrates that service is never forgotten. Decades after the war Leonard and Joan attended a Marine reunion. They were in a hotel elevator when another reunion attendee stepped in. His eyes popped when he saw the name "Pecchia" on Leonard's name tag: 'You saved my life! Under fire, our unit was ordered to leave shore and board a Higgins boat. As I desperately tried to board, you took my hand. For a long time your strong grip held me on the side of the boat. The entire time I could see the name on your uniform: Pecchia. You saved my life that day.'

About The Elizabeth Hospice
The Elizabeth Hospice is a "Level 4 Partner," the highest distinction possible, with the National Hospice and Palliative Care Organization (NHPCO) and the Department of Veteran Affairs (VA), – in the national We Honor Veterans program. An important part of our program are our volunteers; veterans and active duty military personnel.
Active duty personnel and veteran volunteers assist The Elizabeth Hospice by providing companionship visits with hospice patients. They thank fellow veterans for their service by officiating veteran pinning ceremonies at the bedside. Each veteran is presented with a certificate of appreciation and an American flag lapel pin. The most important part of the ceremony is the time spent with the veteran hospice patient and their family reminiscing about their time in the service. "Sometimes I hear stories from veterans that they never shared with their families," said Mike Denen, Elizabeth Hospice volunteer who served in the Air Force during Vietnam. "It's a privilege to hear their stories, actively listen, and let the person express their own views."

To learn more about volunteer opportunities, please contact The Elizabeth Hospice Volunteer Coordinators by calling 800-797-2050 or email volunteer@ehospice.org
Article written by Lisa Marcolongo, The Elizabeth Hospice
Photo credit: Lance Pecchia, son of Leonard Pecchia