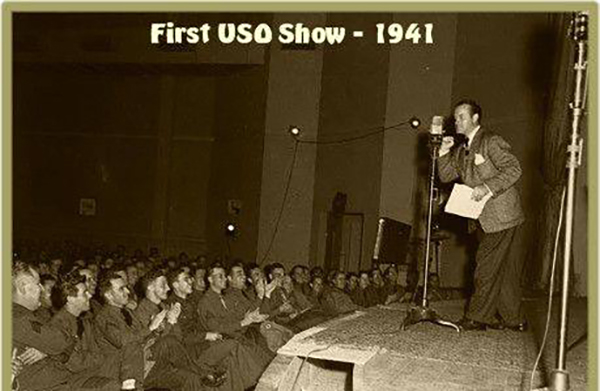 USO Celebrates 80th Anniversary of Bob Hope's First USO Show at March Field
To commemorate the occasion, Bob Hope USO will host a Drive-Thru Lunch on the USO for service members and their families
USO is honored to celebrate the 80th anniversary of comedy and entertainment legend, Bob Hope's First USO show at March Field. On May 6, 1941, Bob Hope aired his popular NBC radio show for military personnel at March Field in Riverside County, broadcasting nationally from the on-site gymnasium. This show marked Hope's first of many performances for troops with the USO and was the forerunner to the legendary performances that entertained troops around the world, creating a legacy that lives on to this day. From that first show, Hope would go on to entertain the troops for nearly 50 years, through World War II, the Korean War, the Vietnam War, the Lebanon Civil War, the Iran-Iraq War and the Persian Gulf War. The Bob and Dolores Hope Foundation continues to support our troops and their families with their financial backing of the Bob Hope USO today.
Eighty years later, the March Field gym where Hope's first performance took place still stands with a dedication plaque honoring the beloved superstar. The gym is currently undergoing renovations and will be open in the coming months for troops to utilize as a fitness center in their free time.
"For service members stationed in countries across the world, Bob Hope USO shows provided a brief moment of lightness and entertainment for those on the front lines dealing with the daily stresses of being in a war zone," said USO West President Bob Kurkjian. "Bob Hope was a reminder of home and what those soldiers were fighting for every day."
Not only were Hope's shows with the USO entertaining, but they provided a way for troops to feel a connection to their home and loved ones. Hope and his performances helped to execute the USO's mission of keeping military service members connected to family, home and country no matter where in the world they are deployed. For the past eight decades, the USO has adapted to the evolving needs of the military and has been providing morale-boosting entertainment, delivering millions of care packages and meals, offering impactful career transition programming, and providing opportunities to connect with loved ones.
"My dad absolutely loved performing for troops all over the world with the USO," said Linda Hope, daughter of Bob and Dolores Hope. "From his first performance to his last, he truly cared about helping to bring some light and laughter into the lives of the service members fighting for our country. It was his way of honoring their service and sacrifices they were making, and he loved the sound of their laughter. He often said they were his best audiences."
In celebration of the anniversary of Hope's first USO show, the Bob Hope USO at March Air Reserve Base (ARB) will host a drive-thru meal distribution on Wednesday, May 5 to strengthen service members and their families by providing them with a delicious Cinco de Mayo lunch. The meal distribution will take place at the March Field post office from 11 a.m. – 1 p.m. Military assigned personnel including Reservists, Guardsmen and active duty from all branches of the military are invited to join and must register and provide valid military ID.
The Bob Hope USO at March ARB opened March 2018. Each year, up to 90,000 individual troops transit the base as units deploy, redeploy and travel for training. Dozens of volunteers serve snacks, refreshments, as it keeps military members connected via Wi-Fi while waiting several hours at the terminal for their flights.
The recording from Bob Hope's first show at March Field can be heard on the Bob Hope USO website, bobhope.uso.org.
Americans can make a difference in the military community by actively expressing their gratitude for our nation's service members and their sacrifices through donations, sponsorship, volunteering, or providing in-kind items. To learn more about ways to give thanks to troops, visit bobhope.uso.org.
For more information about Bob Hope's lasting impact on the USO, visit uso.org/bob-hope.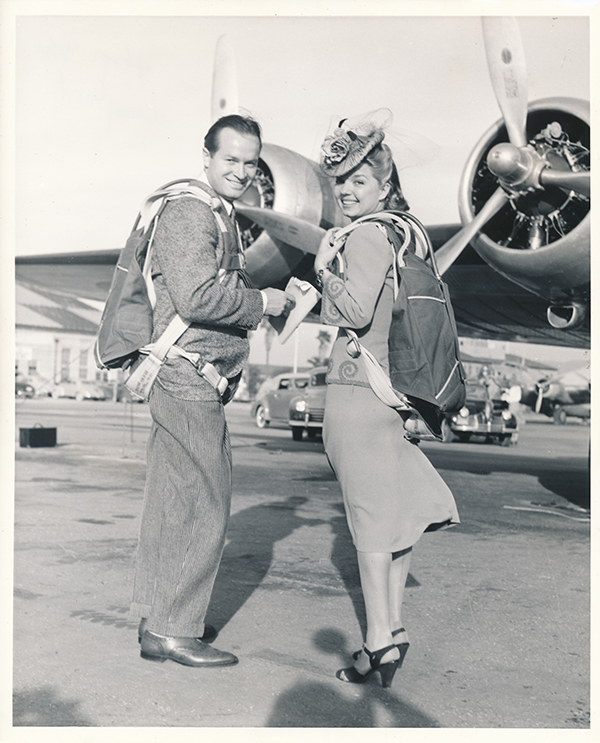 About the USO:
The USO strengthens America's military service members by keeping them connected to family, home and country, throughout their service to the nation. At hundreds of locations worldwide, we are united in our commitment to connect our service members and their families through countless acts of caring, comfort and support. The USO is a private nonprofit organization, not a government agency.
Our programs, services and entertainment tours are made possible by the American people, support of our corporate partners and the dedication of our volunteers and staff.
To join us in this important mission and learn more about the USO, please visit USO.org or follow us on Facebook, Twitter and Instagram.