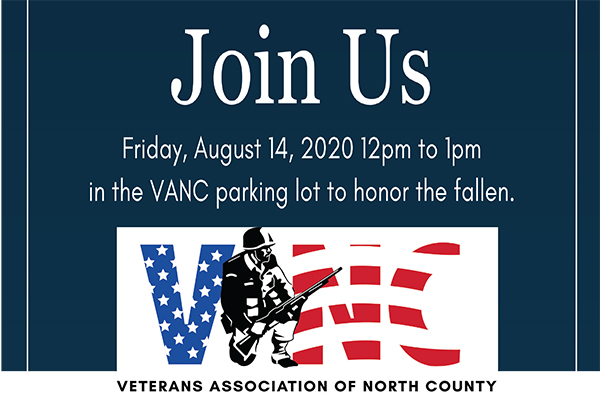 The Veteran's Association Of North County (VANC) is planning on having a remembrance honoring the Marines and Sailor from the 15th Marine Expeditionary Unit, I Marine Expeditionary Force who tragically lost their lives after an amphibious assault vehicle mishap on July 30.
This brief observance would start at 12:00 on Friday, Aug 14th in the parking lot of VANC, located at 1617 Mission Ave, Oceanside, CA 92058.
The ceremony will entail a wreath laying, taps, and benediction.
Wreaths and a remembrance table will be visible for all driving thru to access the Food Distribution, from 13:00 to 14:00.
* Our Food Distribution has operated April – July 2020 and has already served 8,754 with 83% being Active Duty. We have given out 138,675 Diapers with over 1,700 Volunteer hours. Most of our volunteers are resourced from the 1st Medical Battalion, 1st MLG and the Naval Hospital.
For this Food Drive we already have 500 Veteran, Active Duty and their families to serve.