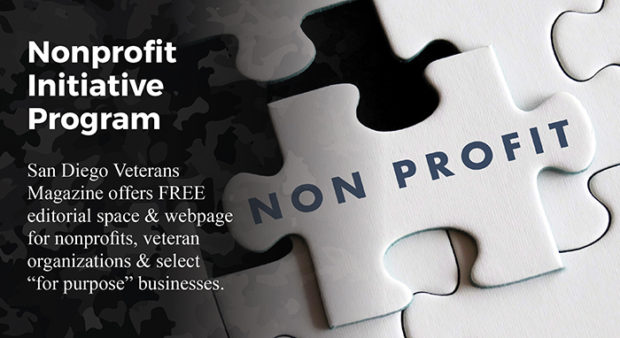 San Diego Veterans Magazine offers FREE editorial space & webpage for nonprofits & veteran organizations & select "for purpose" businesses.
• Nonprofit Initiative Program
San Diego Veterans Magazine is providing complimentary editorial opportunities for the most innovative and groundbreaking nonprofits and veteran agencies in San Diego.
FREE Web Page:
We will also provide organizations with a FREE profile/donation webpages to introduce services, events and donation opportunities to our community. Profiles and donation pages can be updated as often as needed.
Our goal is to not only help organizations raise more money, but to provide them with a voice and opportunity to inspire, educate and create awareness to the services they offer to veterans, transitioning service members, active military and the families that keep it together.
• How Does It Work?
Each month you or your organization can submit an article about the veterans you serve, humanitarian success stories, before/after's, The challenges veterans face/family life, available resources & events, supporting roles, inspiration and your services.
Your articles will be a platform to introduce your organization to our San Diego readers as well as sharing with your members, contributors & social media guest.
We will place your article in the monthly issue of SD Vets Magazine, and it will be available in print and online through our distribution channels.
• The Process:
Word count, deadline, images, editorial direction, themes, availability, etc will be coordinated through San Diego Veterans Magazine editorial staff.
FREE Service:
This is a FREE gift to the San Diego veteran services community. (per-availability)
Move It Forward:
SD Vets will send you a direct link to your article & a pdf to share with your members, contributors, website and social media pages.
For availability, and details contact:
Mike Miller
(858) 275-4281
or email
mikemiller@sdvetsmagazine.com