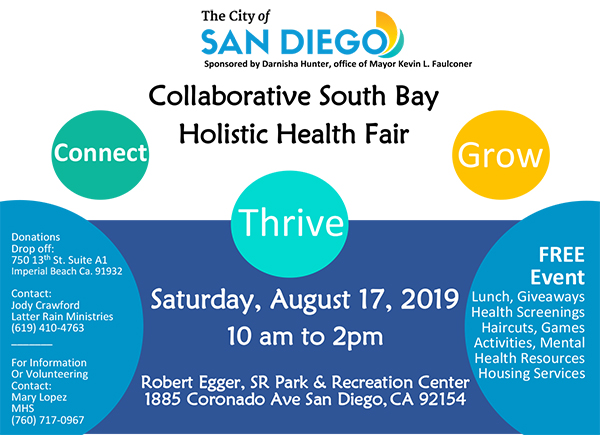 We are very excited about the upcoming South Bay Holistic Health Fair event on August 17, 2019 and we need your help in getting the word out!
We have partnered with over 50 organizations to put on a health fair in the South Bay, August 17, 2019 from 10a.m. till 2p.m. We are looking to bring a holistic Health Fair to the South Bay community hosted at the Robert Egger Sr. Park and Recreation Center, 1885 Coronado Ave. San Diego, CA 92154 at no cost to attendees. The need for the fair is that our South Bay communities tend not to go beyond their neighborhoods for help nor services; which is why we have a desire to bring this event to the community and target our underserved communities, Veterans, homeless, youth and their families.
Hair Ballers LLC will be offering FREE haircuts, dye and makeovers for ALL again these makeovers will be FREE of charge. They will receive these services free at the South Bay Holistic Health Fair, on August 17, 2019 from 10a.m. till 2p.m. Their only requirement is if you are under 18 you must have you parent with you to receive the beauty services. They will be bringing a team of beauty professionals that can offer 50 makeovers which includes haircuts, color and makeup. This is going to be on a first-come-first-serve basis. Remember our kiddos are headed back to school so a fresh hair cut is timely.
Come out and share in the Healing and Fun!